October is drawing to a close. Have you enjoyed it to its fullest? Have you drained October of its delicious lifeblood? Have you sucked the marrow of October's bones?
Fear not. October has not yet breathed its last. Even if you'd like to avoid crowds and indoor spaces, there's still time to celebrate the month's spookiness in a safe* way. Here are some suggestions.
* Note: By "safe" I mean Covid-safe, not ghost-safe, clown-safe, or unknown-creatures-of-the-night-safe.
#1: Carve Some Pumpkins
Pumpkin-carving has always been a favorite Halloween tradition in my family. I love pulling the lid off a pumpkin and seeing its insides for the first time. Some pumpkins are neat and tidy with just a few handfuls of seeds to scoop out. Some are gooey and gloppy and have to be shoveled out with a spoon. Others are thick-sided and stringy, holding onto their lid for dear life, requiring tools to hack through the forest of their innards. I love designing silly and creepy faces and then bringing them to life with knives and candles. I love the smell of freshly singed pumpkin. I love it all.
Unfortunately, this year the squirrels in my yard decided they love pumpkin carving too, and they proved to be quite efficient artists. In less than a week's time, the sinister squirrels had reduced most of our pumpkins to nothing but hollow shells. We rescued a few and made them "house pumpkins" to keep them safe. Until we gut them and carve them ourselves. Heh heh.
#2: Go for a Hike & Let Google Guide You Home
A couple of weeks ago, I grabbed my water and snack and bug spray and journal and headed out for a hike. The trail by my house is a weaving, twisting, interconnected web of paths that ramble through the woods and dry creek beds and brush behind and between the neighborhoods nearby. It's hard to get truly lost on the trail, but it's easy to never travel the exact same path you've traveled before. There are just too many choices to make.
On this particular morning, the weather was perfect. I walked and walked and… just kept walking. After almost two hours on the trail, I was well beyond where I'd ever been and began wondering where exactly I was and if maybe there was a faster way back to my house. I brought up my good old Google maps app, changed the method of transportation to walking, and searched for the quickest route home. Success! If I just went a little further, I could cross the highway and be home in only twenty minutes via a sidewalk instead of a hiking trail. I gladly followed the app's advice.
Until I came to this.
This, according to Google maps, was the quickest way home. This dark, graffitied, clown-infested drainage tunnel is where Google maps told me to go.
I took this photo, cursed under my breath, texted my husband to say I wouldn't be home for a while, and turned back around. But if you're more adventurous/crazy than I am, I suggest you change your transportation app to walking and see where Pennywise, I mean Google, takes you.
#3: Read a Scary Book, or Better Yet, Listen to a Scary Book While Walking Around at Night
I love spooky books. I love listening to audio books. I love walking around my neighborhood at night. A few weeks ago, I combined these loves into one very creepy hobby.
The Sun Down Motel by Simone St. James is a fast-paced, engaging, ghostly murder mystery set in the town of Fell, New York, in both 1982 and 2017. The plot follows the story of Viv, a naive twenty-year-old in 1982 on her own for the first time in a strange place, and Carly, Viv's twenty-year-old niece who is investigating her aunt's unsolved disappearance thirty-five years later. The narrative bounces back and forth between the two young women, who end up leading mirrored lives. Carly rents the same room where her aunt lived in 1982 and gets a job as the night clerk in the same haunted motel where Viv worked, and where she disappeared.
The ghosts of the Sun Down Motel are visceral specters not only seen, but heard and smelled and felt by the witnesses who encounter them, and they leap off the page and into the reader's senses as well. But the spirits are not the only things to be feared in this mystery. Fell, New York, is full of unsolved murders– women who disappeared from homes, parking lots, or jogging trails, their bodies to be discovered later, and their stories haunt the narrative too.
See? This is the perfect novel to listen to while walking around your neighborhood at ten o'clock at night!
Each night I left the house with my walking shoes and earbuds, I told my hubby, "Back in an hour if I haven't been murdered!" He never found that very funny, and I guarantee my parents don't find it funny now as they read this either, but I always thought I was hilarious. That is until I got about about mile into my walk and started really getting into the book. Then I'd find myself checking over my shoulder much more frequently than usual and speeding up my steps. **
I burned a LOT of calories listening to this book.
The best was when I was listening to the last couple of chapters, and the events in the book were getting more and more intense, and the main character was in trouble, and my nerves were on edge, and I walked past a garage right as my neighbor started up a table saw.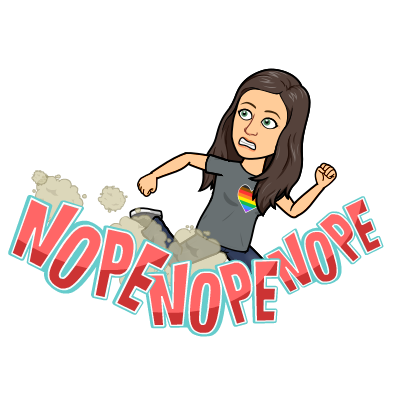 Yeah, normally I'm just a walker, but I might have jogged a little that night.
Anyway, I recommend The Sun Down Motel in any season, and if you want to make it creepier and get some exercise while you're at it, I recommend the audio version and a good pair of walking shoes.
** Note: I live in a VERY safe neighborhood and know many of my neighbors and was rarely the only person out walking at this time of night and always had my phone with me (duh, that's how I listened to the book) and only ever wore one earbud so I could hear outside noises as well, so Mom and Dad, keep your lectures to yourself, please. I'm FINE. 🙂
#4: Tell Ghost Stories by a Campfire
Gather some firewood and a friend and a couple of comfy chairs, and sit back to lose yourself in the flames of a campfire. When it's good and dark, so that the light of the blaze is illuminating only your circle of warmth and the rest of the night is blacker than coal outside your field of vision, it's time to tell a ghost story. Don't know any? Grab a book to read from. You could go classic with Edgar Allan Poe or Alvin Schwartz's Scary Stories to Tell in the Dark, or choose a more modern assortment such as All Hallows' Eve by Vivian Vande Velde. You could even read a TRUE ghost story from The Ghostly Tales of Austin by yours truly.
Then again, you could always just sit back and wait for the ghost stories to write themselves.
I was recently reminded of a night a few Octobers ago when I made a campfire in my backyard and settled in for a peaceful evening of crackles and wood smoke with my trusty dog, Uno. Our backyard, as you can see in the photo above, backs up to a wooded area. We have no neighbors behind us, just trees and bushes and the various critters that haunt our part of Austin. That night, when darkness fell, leaving me alone in my circle of firelight, something beyond the fence drew Uno's attention. He stepped up to the fence, looked through the bars into the night beyond, and growled.
No big deal, I thought. Just an animal.
Uno growled again, more ferociously.
No cause for concern, I thought. Even if it is some boogieman, Uno's on the job.
Then my trusty dog stopped growling, went to get his tennis ball, dropped it at the fence, and sat down.
Friends, when your dog offers his tennis ball to the darkness, it's time to go inside. That's exactly what I did. My campout was over. I took my goosebumpy self in the house and made Uno come in with me. I didn't know who or what in the night beyond the fence asked my dog to play, and I didn't want to know. I was DONE.
So, yeah. Go have a campfire. It's probably a good idea.
#5: Stay Home & Relax
October is a busy season for everyone, not just ghosts. If you don't have time to take a three-hour hike or mutilate vegetables or play fetch with the darkness, don't worry. Engage in some self care instead! There's no shame in staying home and treating yourself to a little me time. Indulge in a sweet snack, watch a spooky movie, read a favorite book, or just enjoy some time doing nothing at all. You deserve it.
Happy October, Everyone!
Whatever you do, have a spooky good time!