New Year means new goals, new promises, new challenges, new you.
Some people like to choose a single word for the new year, something that embodies their focus or intention for the next twelve months. I think this is a cool thing to do, but it's not for me. I'm a resolutions girl through and through. I like a list, even if it's a short one. My 2020 resolutions page includes a concise seven items.
The first is a return to an old favorite. Monitoring my "Have to's," "Need to's," and "Want to's" is one of the best resolutions I've ever made and one I recommend for anyone to work on. The second is a familiar goal with a small twist. I love reading and often finish 40-60 books a year, but this year I don't want all my reading to be for pleasure. I want to read at least a couple of books that push me in some way.  Maybe it's a difficult text that requires constant use of a dictionary. Maybe I'll try to learn a new skill or subject and read something that requires study and memorization. Or maybe I'll read something that challenges my political beliefs or worldview. I don't know how I'll go about it yet, but I'm determined to work for at least two titles.
I like my method of goal-setting. It works for me. This year, though, it's like the universe is trying to force the one-word trend on me.
On Saturday, all Facebook wanted to do was show me people's 2020 words. PERSEVERANCE. PEACE. OPENHEARTED. CREATRIX (<– I love that one). These are all very cool, and there's nothing wrong with this way of embracing the new year. It's just not something I want to do. But, inundated with these terms—STRENGTH, PRESENCE, TRUTH– I found my mind begin to wander… "IF I were to choose a word…" until, in a spectacular bout of stubbornness, I went old school Ghostbusters on myself. "No! Don't think! Clear your mind! Clear your mind!" I don't know why I'm so determined NOT to have a 2020 word. I just am.
I thought I had successfully cleared my head of this parasitic inspirational intrusion. Then my metaphorical Stay-Puft Marshmallow Men started showing up.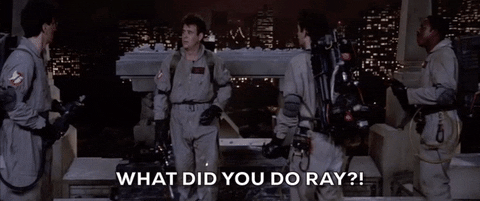 On Sunday, I wrote a letter to my dad– a thank you note for a Christmas gift and a copy of something he asked me to send him. When I pulled a plain white envelope out of my stationery box and opened it to insert his letter, I realized the envelope was full of words cut out of magazines.
Now, this isn't strange in itself. I like cutting words out of magazines for found poetry and art and decorating journals, and when I have words left over (you should always have words left over– never use all your words) I often keep them in an envelope. But how an unlabeled envelope of unused words got put back into my box of brand new stationery is beyond me. At the time, I pondered it for a moment, shrugged, and then sent the letter to my dad, leaving the extra words inside. (I figured he could use them for something.) It wasn't until a few hours later that I realized the implications of my discovery and, literally, gasped. The universe was trying to TRICK ME into choosing a 2020 word! Well, it didn't work! Ha! My dad can choose one if he wants, but I deftly averted the universe's clever ploy.
So… the universe chose a word for me.
Monday, I went back to work. [Insert sad violin music here.] The first thing I saw when I walked into my classroom on Monday morning was a small rectangle on the floor. I picked it up and turned it over. This is what I found:
Before you start spinning myths about how that word got there, NO, I don't possess a set of magnetic poetry in my classroom (want to buy me one?), and YES, I'm sure that magnet did not exist in my room in 2019. (I've been in this classroom for four years, and I am very organized.) I truly have no idea where it came from. I only know that it was sitting there, on the carpet, waiting to mock me the day I returned to work: DISAPPOINTED.
Well, the joke's on you, Universe, because I refuse to accept your word. I am my own person! I shall not be owned by a word! I am free! FREE, I tell you!!! (But that's not my word either. I don't have a word.)
In conclusion, embrace the new year however you want, and don't let anyone force any particular inspirational method on you. You be you.
Meanwhile, I'll just be over here hiding from the universe and trying not to be disappointed. Don't mind me.